B.Sc (Hons) Yoga
B.Sc (Hons) Yoga
Year of Entry 2020
Start Date October 2020
Location Central London
Duration 2 years full-time with the option to continue to a third year at Level 6 (subject to validation)
Attendance 3 days a week, October-June (12 hours of taught contact per week)
Entry Requirements:
From A-level, passes in at least two subjects
Alternative GCSE Qualifications: Level 2 equivalences such as Level 2 Functional Skills in English/Maths, Level 2 Key Skills in Communication and Level 2 Adult Literacy/Numeracy
Mature Applicants and Those Without Formal Qualifications: As an inclusive university, we recognise that applicants who have been out of education for some time may not have the formal qualifications usually required for entry to the course. We welcome applications from those who can demonstrate their enthusiasm and commitment to study and have the relevant life/practice experience that will enable them to succeed on the course. We will assess this from the information provided in your application, in particular your personal statement, to help us decide on your eligibility for the course.
English Language Requirements: Overall IELTS 6.0 with a minimum of 6.0 in Writing and Speaking; minimum 5.5 in Reading and Listening (or recognised equivalent). If you do not meet the academic English Language requirement for this course, you may be eligible to enrol onto a pre-sessional English programme. The length of the course will depend on your current level of English and the requirements for this programme.
We offer a 5-week and an 11-week pre-sessional programme.
5-week (entry requirement: IELTS for UKVI 5.0, with no less than 5.0 in any component.
Fees: £1500. The programme will be available July-October.
11-week (entry requirement: IELTS for UK VI 4.5, with no less than 4.5 in any component.
Fees: £3080. The programme will be available July-October.
Fees: UK and EU: £8000
The UK Government has confirmed that EU students will continue to be eligible for 'home fee status' for entry in October 2020, and will continue to have access to financial support available via student loans for the duration of their course.
For more information please visit the gov.uk website.
Overseas: £15000
There will be small incremental increase in the annual tuition fees each year in line with inflation
All applications must be made direct to Mayur University.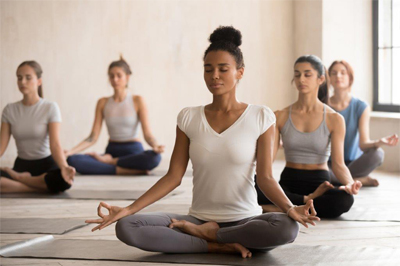 Yoga as a 'keep fit' exercise regime is becoming increasingly popular in the UK and elsewhere in the Western world. There is also a growing recognition among health professionals that yoga and meditation techniques can play a significant role in maintaining and promoting health, in preventing ill-health and improving clinical outcomes in the case of certain health conditions.
This is a unique programme that offers you the opportunity to explore the philosophical, spiritual and practice elements which are at the core of the Yoga tradition. You will also acquire health assessment and diagnostic skills as well as extensive understanding of the therapeutic aspects of yoga and an ability to appraise their effectiveness in maintaining health and well-being and preventing ill-health.
You will initially enrol on a two-year programme of study leading to a Diploma in Higher Education. There will be the opportunity to extend this to a further year of study leading to a B.Sc (Hons) when the status of the course has been approved.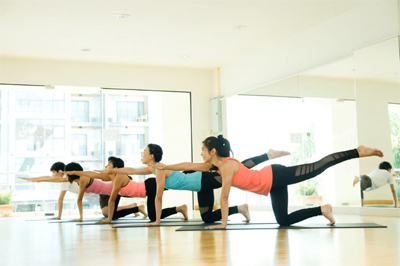 This course will be of particular interest to experienced yoga practitioners who wish to gain a deeper understanding of the philosophical orientation, cultural traditions, spiritual and ethical principles underpinning yoga practice and their relevance to contemporary values and lifestyles.
It would also be of interest to health professionals who may wish to apply the therapeutic aspects of yoga in the light of the clinical research evidence-base.
Your programme of study is modular. You will study 6 modules in Years 1 and 2, each worth 20 credits. You must achieve 120 credits each year before progressing to the next level of study. In Year 3 you will study 4 modules each worth 20 credits and complete a Dissertation on a subject of your choice which will be worth 40 credits.
The programme has three exit points:
Certificate in Higher Education (Yoga)
(on successful completion of all Year 1 modules)
Diploma in Higher Education (DipHE) Yoga
(on successful completion of all Years 1 and 2 modules)
Bachelor of Science (Honours) (B.Sc. Hons) Yoga [subject to validation]
(on successful completion of Year 3 modules)
Module Summaries
Year 1/Level IV
History of Yoga explores the mythological and spiritual roots of yoga as well as its contemporary practice. There will also be opportunities to reflect on ancient texts and the lives of great Yogis who continue to inspire the modern practitioner.
Philosophy of Yoga introduces you to the ideological core of the yoga tradition and provides opportunities to explore the different yoga paths and the philosophical basis of yoga practice.
Sanskrit provides you with the language skills to facilitate your understanding of the classical yoga literature.
Yogasana introduces you to some of the essential yoga postures and breathing exercises. This practical module should enable you to plan a personal programme for self-awareness and relaxation of body and mind.
Human Anatomy and Physiology is essential for the serious student of yoga as a means to supporting one's own practice and as a foundation for exploring the therapeutic benefits of yoga.
Yogasutra of Patanjali offers an opportunity to undertake an in-depth study of Sections 1 and 2 of one of the most profound texts on yoga. This complements the Philosophy module.
Year 2/Level V
Introduction to Ayurveda allows you to examine the fundamental principles and core concepts of the holistic health care system of Ayurveda and its close relationship with the classical tradition of yoga.
Yogasana (2) focuses on the breathing and meditation practice of pranayama and enable you to develop your personal practice of yoga further with the support of an experienced yoga teacher.
Basic Orientation to Nutrition provides a comprehensive understanding of the relationship between diet, health and disease and the structural characteristics and functions of key macro- and micro-nutrients.
Research Methods for Complementary and Alternative Health Therapies introduces you to quantitative and qualitative research paradigms and enables you to develop skills in designing and undertaking research studies and using research evidence to inform clinical practice.
Yogasutra of Patanjali (Part 2) will be an in-depth study of Sections 3 and 4 of this seminal text. Here the focus is on the subtle disciplines of concentration, meditation and total absorption which help in the sublimation of ego and the relief of stress.
Dharmic and Spiritual Aspects of Yoga is an in-depth study of the Bhagavad Gita with a view to integrate its underlying philosophical, spiritual and ethical principles with one's own personal practice of yoga and as a way of life.
Year 3 (subject to validation)
Applied Pathophysiology provides the bio-medical perspective on clinical and diagnostic methods. You will acquire an understanding of the causes, clinical features and diagnosis of some common diseases as well of basic pathology tests and imaging techniques.
Principles of Yoga Therapy and Clinical Methods introduces you to the health promoting and healing potential of yoga. The focus is not only on physical health but also harnessing the practice of yoga and meditation to achieve mental and emotional well-being. There will be opportunities to develop therapeutic communication skills and to practice case-taking, clinical examination and diagnostic skills.
Yoga Therapy for Stress Management and Common Health Conditions has a strong clinical focus. There will be opportunities to practice health assessment and case management skills and prescribe evidence-based yoga therapy to patients with a diagnosed health condition and to deal with the debilitating effects of physical, mental and emotional stress. You will also gain insights into the therapeutic effects of sound and music.
Management and Ethical Issues in Health Care examines the regulatory, business and legal issues that impact on the delivery of Complementary and Alternative Therapies in the West. There will also be opportunities to consider the ethical aspects of health care delivery.
The Dissertation worth 40 credits gives you the opportunity to explore a health condition in-depth, drawing on the clinical and theoretical knowledge you have acquired. It also requires you to develop the ability to critically appraise literature from a variety of different sources, which are relevant to the topic of your choice.
The Programme Team reserves the right to update the content of the modules on an annual basis to make them more relevant and to enhance the student learning experience. The revised details will be published ahead of each academic year.
How you will learn
The teaching and learning strategy for this programme reflects the profound intellectual, moral and spiritual dimensions of Yoga and the challenge of articulating and explaining these in a social and cultural context where the practice of yoga is usually identified with a physical fitness regime. The teaching methods will include lectures, supervised practice-based sessions, seminars and clinic-based teaching and observation sessions.
How you will be assessed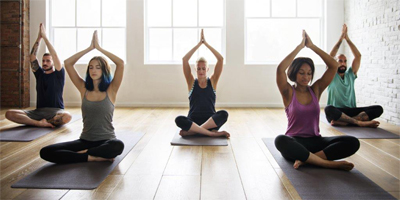 Assessments reflect the multi-disciplinary nature of the knowledge required to achieve the aims and learning outcomes of this programme. Assessment is not an end in itself, but rather, a measure of your individual achievement, learning and progress.
There will be a mix of formal written examinations and interpretative essays, as well as opportunities for you to demonstrate your mastery of yoga postures and practices and their health-promoting potential. You will also be required to produce reflective papers on the development of your personal practice of yoga.
In Year 3, the assessments will focus more on the use of case studies, requiring you to demonstrate critical analysis, evaluation and synthesis in terms of yoga therapeutic interventions. You will maintain a clinical journal to record the learning that takes place in a clinical setting, The Dissertation will demonstrate your understanding of the classical literature, epidemiology and modern research evidence relevant to a particular health issue.
Support for Students
You will be taught by teachers with specialist knowledge and expertise in the particular subject, thereby assuring a learning experience of high quality.
The Module Tutor is responsible for the overall module delivery and will address subject-specific issues and assessments, monitor attendance at lectures, practice and/or clinic sessions.
The Programme Leader is responsible for the co-ordination and integrity of the whole programme and for monitoring the quality of the teaching and learning.
The Dean will provide pro-active academic guidance and pastoral support to students throughout the duration of their studies at Mayur University. S/he will maintain effective liaison with Module Tutors and Programme Leaders and ensure that students have opportunities for individual and/or small group tutorials with a Module Tutor. Students are expected to keep the Dean informed of any circumstances likely to impact substantially on their academic performance and overall learning experience. Personal information will not be disclosed to members of the programme team without the student's written permission.
Administrative support will be provided by the Programme Administrator.
Each student will be provided with a Programme Handbook which gives a broad overview of the B.Sc (Hons) Yoga degree at Mayur University. You will also get a set of Module Study Guides which provide detailed information on each module, including, the type of assessments and the dates when they fall due. The Library has a comprehensive collection of books and journals on Yoga, Ayurveda and related disciplines to support this programme. Books may be borrowed for one week at a time and extended for a further week if there is no demand for it. Some items have been designated for Reference only to ensure that all students have equal access to these resources. The Library will be continually expanding and we welcome suggestions from students on further additions to the collection.